How Much Does a Mechanical Bull Cost?
The mechanical bull is the result of human curiosity. Humans always try to find the best ways to replicate the things and activities they like, one of which is animal riding or rodeo. Amusement parks are full of machines that are able to provide you with a similar sensation as riding an animal, like mechanical horse rides or mechanical bull ones.
A mechanical bull or a bucking machine is a device that operates using an electric motor. They provide fun-based activities to their riders and are placed in fun parks, where visitors will usually have to pay to enjoy them.
They are also known as bucking machines because they provide the riders with an artificial sensation of bulking an animal. The mechanical bull comes as a complete set, the mechanical machine with a padded floor. The speed of this type of machine can be controlled by the rider. To avoid injuries, it will usually be surrounded by a padded floor, helping the rider to avoid most of the injuries if they fall from it.
How much does a mechanical bull cost?
There is a high variation in the costs at which mechanical bulls can be found, and this is usually because of the big variation in functions that this ride can support.
The cost of a mechanical bull set is anywhere from $2,500 to $16,000. If you're more interested in renting one, then the price you should expect will usually be between $400 and $600. This set will usually consist of two parts. One is the mechanical system while the other one is an inflatable mattress that will be placed below it to help riders avoid injuries.
The inflatable mattress comes in different sizes and shapes, but the most common one you will find will usually have a round shape. It could be available with shade or you can buy it without the shade. The cost of an inflatable mattress varies from $500 to $2,000, depending on its structure and material.
You might also like our articles about the cost of a snowboard, bowling sessions, or a bobsled.
The mechanical system itself can also differ in functions. It could be a simpler model or a more advanced one, and its price will differ accordingly. If you are going to buy a more advanced mechanical system with more functions, you should expect it to be in the range of $12,000 to $15,000, while the best mechanical bull is likely to cost closer to $20,000.
If you will instead go for a simpler version with very limited functions, you can expect to pay considerably less. One of the simplest models with only the basic functions can cost at the very least $2,000.
How much does it cost to rent a mechanical bull?
You can rent a mechanical bull from websites like MechanicalBulls.com, for example, for a monthly payment of $500 to $650.  For this fee, the rental company will usually offer free shipping and free installation, which makes mechanical bull rental a pretty good deal.
Functions of different types of mechanical bulls
Different brands offer different varieties of mechanical bulls. These variations will usually mean different qualities of the material, different power capabilities of the machine, and different functions. These variations can be categorized like this:
Variations in size
Variations in the power of the machine
Variations in the material and structure of the inflatable mattress
Variations in the material of the shade
Variations in functions performed by mechanical part
The machine itself will usually contain most of the functions. Some of the most common functions are:
Auto-stop system – This type of machine can cost a lot more if it has an auto-stop system installed. This system allows the mechanical bull to stop after a particular time. Most of these pieces of machinery in amusement parks work on this system.
LED Time Clock – This is also an advanced system that enables the rider to can count the time of his ride with the help of a visible LED clock.
Movement and speed control – Through this function, any rider can control the speed of the mechanical bull.
What are the extra costs associated with a mechanical bull system?
Along with the cost of the actual mechanical system, some extra charges should also be kept in mind. Because of the size, most mechanical bulls will be pretty hard to transport, which means that you may have to spend some extra money on shipping.
If you want to use a piece of machinery like this for commercial gains, then you may have to consider an insurance policy as well.
A separate place that is big enough is also required to install the machine. If you are buying it for commercial use, you may have to find a commercial entity to rent.
The cost of accessories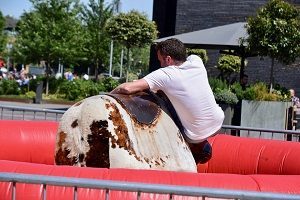 All the accessories needed for the machine to function will usually be included with the machine. You shouldn't be required to spend any additional money on accessories, except if you want to add additional functions. The initial packaging should already contain a power station, audio system, speakers, headphones, the necessary power cables, and explainer videos.
Additional Requirements
You need a wide space with a high enough ceiling, to have enough room for the bull and the rider on top of it. If you buy this system with shade, then you can place it in an open area as well. An electric line with high voltage is also required. You may have to dedicate a separate line of 220 voltage for the mechanical bull alone.
An operator is also required to manage the control station. At the control station, the speed can be controlled on different levels depending on the model of the system. Different audios and modes are also controlled from the control station if they don't come pre-installed into the actual machinery.
How can I save money?
The price of mechanical bull varies highly. If you have a tight budget, you can go with a machine that has a lower price but comes with restricted functionality. If you are buying it for commercial usage, consider getting it on rent rather than buying it. Rental will usually help you save on the costs of maintenance and allows you to know if that product is working for you or not.
You can also save money if you buy the machine locally. In this case, you can save on the shipping costs, but still, you will have to pay for transportation and installation.
If you are going to purchase it online, it is highly recommended to purchase the product from a quality brand, and with many positive reviews.
The high-cost online purchases should always be liable to insurance, as this will give future buyers more security.
There are many brands that allow you to buy a mechanical bull in easy installments.
https://www.thepricer.org/wp-content/uploads/2021/07/mechanical-bull-cost.jpg
380
610
Alec Pow
https://www.thepricer.org/wp-content/uploads/2023/04/thepricerlogobig.png
Alec Pow
2021-07-16 07:23:53
2023-05-09 07:49:48
How Much Does a Mechanical Bull Cost?