Most players consider Bingo a simple game that depends on luck alone. Indeed, this game lacks the complexity of poker. Bingo is a gambling game played in the whole world. The first variants of the game appeared almost half a millennium ago. This is considered to be a descendant of the "Lo Giuoco del Lotto d'Italia" lottery launched in Italy in 1530. It was a lottery game with a system that went out of the ordinary. Eventually, it became so popular that it was organized weekly.
In 1778, the French (outspoken fans of this game system) made some changes to the original game, and in 1929, an American businessman – Edwin S. Love – took over the idea of this game from the Europeans. He also made some changes and named the new version of the game "Beno". In about a year, the game was renamed "BINGO", remaining in the same form of the game until present times.
How Much Does Bingo Cost?
If you want to play at a local bingo hall then you should expect to spend anywhere between $1 and $15 per card. Though, the costs are different if you were to play at a casino. In general, casinos use different colors at a fixed price. Depending on the casino policy, every color will vary in jackpot winnings and every pack will have a set number of cards, in general, anywhere between 50 and 100. As the games go on, these cards will be checked electronically, while at a bingo hall you will have to mark them manually. Plan on spending anywhere between $55 and $70 for each pack/session.
You might also like our articles about the cost of arcade games, bowling games, or pool table refelting.
You should budget at least $25 if you would like to play bingo at a local casino, according to the Trip Advisor online forum. Also, the members of this forum say you should expect to see a different bingo game at a casino compared to the one played at your home or at a local bingo hall. Depending on the casino, each of these packs can contain 100 cards. According to a member of the same forum, the cost to play an entire one-hour session, which includes 10 games, at the Gold Coast Casino in Las Vegas is around $40.
From the Dis Board online forum, we found out how much would it cost to play bingo on a cruise ship. The price of 24 electronic cards is around $50 and for six paper cards, you will have to pay around $40. The cost per card will get lower as you buy more cards during one session.
According to the Cruisemates online forum, you should plan on spending around $1,200 if you would like to play bingo on a cruise ship. The members of this forum said that the price of one card is around $12, while for three cards you will have to pay around $25.
Bingo details
A local bingo hall would accommodate around 100 people, while some casinos have enough space to seat close to 1,000 guests.
Depending on the location you choose to play bingo at, a casino will let you mark your card manually on your own, or use an electronic card that will be marked automatically via a computer. The majority of the casinos will use the electronic method, while the bingo halls will let you use markers. However, it depends on the policy of each location, whether it is a casino or a bingo hall.
If you are a beginner and you don't know how to play bingo, then you should not worry because the staff of the casino is more than happy to explain to you how to play and what you have to do.
In general, the jackpots would start at around $500 and go up to more than $12,000, depending on the amount being played.
How to play Bingo?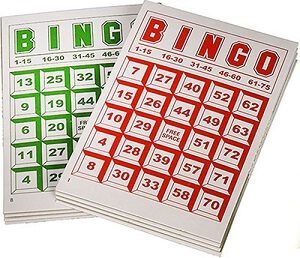 What new players need to understand when it comes to playing Bingo is that experience doesn't matter at all. This is a game of chance, based on extracting numbers that may (or may not) exist on the game board.
As a game mode, the game of Bingo is similar to the game of Lotto: you win if the numbers on your ticket (or the ones you circled on the ticket) are the ones picked by the game leader.
The big difference between a game of Bingo and a lottery game is this: if in the case of a lotto game, a fixed number of numbers will be extracted (hence the scenario in which the winnings are carried over to the next extraction), in the case of Bingo, the numbers are extracted until there is a winner. So, in terms of chances of winning, Bingo is more competitive than Lotto.
As in the case of the lottery game, the total prize increases depending on the number of registered players, but also on the amounts they invest in that game. It is important to note that each Bingo game has an initial prize pool.
Each playing card is provided with numbers arranged in lines, with prizes being awarded to players who manage to complete one line, two lines, three lines, or even the entire number card. When a player has completed the entire number card, he will shout "BINGO!"
What are the extra costs?
If you are one of those who play bingo very often you already know that you need a bingo marker for marking the cards. Expect to spend anywhere between $2 and $5 for such a marker.
How can I save money?
If you plan on playing bingo at a casino or a local bingo hall and you want to save some money on your game, check their official website first, for any kind of promotions or discounts. For instance, they may have a senior day or offer a free card if you purchase a certain number.
https://www.thepricer.org/wp-content/uploads/2022/03/bingo-cost.jpg
380
610
Alec Pow
https://www.thepricer.org/wp-content/uploads/2023/04/thepricerlogobig.png
Alec Pow
2022-03-06 08:00:23
2022-03-01 08:13:18
The Cost of Bingo