The Cost of Comic Con Tickets
Comic Con has slowly become one of the biggest, most popular conventions organized in the US. This conference is held all around the world but the main even is held once a year in San Diego. It first started off as a small gathering but slowly raised to 130,000 attendees and badge holders yearly. Not only the number of members has grown year after year, but also the costs of attending the event. Getting a Comic-Con ticket/badge won't be the only expense you should take into account when considering the costs of attending this event.
You should also think about other expenses like the costs to travel, of coming from far away, the cost of food for two to three days, hotel accommodation, and even renting a car, if needed. All of these make Comic-Con a pretty considerable investment. Inside this article, you will find a lot of valuable information on how much you will pay for Comic Con tickets, but for other expenses related to the event as well.
You might also like our articles on the cost of tickets for the Oscars, Met Gala, or the Grammys.
One thing you should keep in mind while reading this whole article: This article is written for someone that comes from out of town, especially for the event. If you think you don't need any of the expenses for either accommodation or to get to the event or whatever, then just subtract these costs from the overall expense.
Comic-Con Ticket/Badge Cost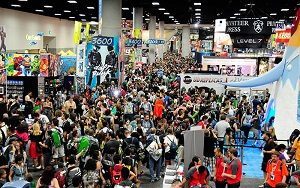 We'll start off by saying that you should expect a cost per ticket (you will actually receive a badge and not a ticket) of about $180 to $250. This cost will be split over a few nights: The Comic Con Preview Night, which is Wednesday night, will have an entry cost of around $50. This night will be followed by another three main days of Comic Con conference, that last from Thursday to Saturday, each costing around $60.
You can also attend the Sunday events, for a separate fee of $40. If you have any kids below 12 years old and you want to take them with you, you should know that there is no entrance fee or ticket required for any children 12 or below. Furthermore, all children aged 13 to 17, as well as seniors over 60 years old will benefit from a discounted rate.
This means that the cost of the Comic Con tickets will eventually depend on how many days of event you'll want to attend. Most people will usually go for the three days of the main Comic-Con event, for a cost of around $180, but if you don't want to miss anything, then the cost of badges for all of the event days will set you back around $250.
Comic Con Hotel/Accommodations
This is one of the biggest expenses you will face while going to the Comic Con. The cost of a few nights spent in a hotel in San Diego during Comic Con will leave most people stunned, especially the first-time goers. This is one of the costs that you won't be able to escape unless you choose to spend just one night at the conference or you have another alternative for accommodation.
The cheapest alternative would be to just book a hotel through Comic-Con. For people that don't know this, Comic Con features two separate hotel sales with considerably better rates than anything else available during those few days. If you miss these sales, you are only left with renting a hotel room on the open market, which will be considerably more expensive. So what about those two sales provided by Comic Con?
Comic Con Early Bird Hotel Sale
If you're smart enough to look for hotel rooms for Comic-Con in late March, you will stumble upon the Comic Con Early Bird hotel sale. Throughout this sale, you will be able to book hotel rooms in the Mission Valley and San Diego airport areas for somewhere around $180 and $270. Keep in mind that these tickets, although way cheaper than the market value, will be nonrefundable. Unfortunately, this particular sale won't include any downtown hotels.
Comic Con General Hotel Sale
The Early Bird sale will usually be followed by a second sale, which will offer hotel rooms all around San Diego, even in the downtown area. Getting an early bird booking won't be very challenging because people don't fight each other for these tickets, but getting a general sale ticket will be a lot harder. Hotels will be a lot harder to book during this second sale and you'll also have a harder time getting badges for the event. This sale will typically be held in April and will be set as a virtual waiting room with participants waiting to be pulled in to purchase accommodation. People will be pulled in to buy randomly.
But why would you fight to get hotel tickets through Comic-Con? The deals for hotels made through Comic-Con are the best you will be able to get in terms of their price. Even though the prices will be considerably higher than what you would spend while booking through the Comic-Con Early Bird phase, they will be considerably below anything offered on Hotels.com, Booking.com, or similar websites.
To get a better understanding of how great the Comic Con sales are, one example is the Westin San Diego hotel, which offered rooms for $240 through Comic Con, but charged over $1,000 per night outside of the Comic-Con deal. If you have the possibility, don't think twice about getting your hotel room through Comic Con. Also be prepared for a huge disappointment, as these rooms are limited in number and a lot of people will want to get them.
So Let's Get a Clear Image Of The Accommodation Expenses

If you're trying to figure out how much would accommodation cost for the Comic-Con event, then you will have to have three different prices ranges in your head. Going for the Comic Con Early Bird sale will be the cheapest alternative when you could get hotel rooms for around $250 per night. Going for the second Comic Con hotel sale will be more expensive, but not as expensive as booking a hotel yourself. Finally, booking a room through Hotels.com or similar websites will cost at least $500 per night and will be the most expensive option you will usually have.
You should also add taxes into this equation, which would be close to $200.
Food & Drinks for the whole event
Just like most cities in the world, San Diego can be as cheap or as expensive as you need it to be. You will find a considerable number of restaurants and bars inside the Gaslamp District, which is within walking distance of the Comic-Con event. You will find a great variety of locations, from cheap ones to ones that are considered luxurious.
Spending some time going from restaurant to restaurant and from bar to bar will enable you to find the perfect pricer/quality combination for you. You will usually be able to get by with a budget of around $150 – $200 daily, but you can find even cheaper alternatives if you're on a tight budget. If you take drinking out of this equation, you will only need around $100 per day.
Rides to Comic Con Daily
Depending on the area where you were able to get a hotel room, you will find different means of transportation. You can find these detailed in the list below. A great tip would be to avoid driving to the event and parking close because you won't find any parking space and if you find one, it will be very expensive.
Getting to Comic Con from the Airport ( The Shelter Island or Point Loma area) – You can take the Comic-Con shuttle, which costs exactly $0.
Getting to Comic Con from the Mission Valley area – You can take the trolley, which offers day passes for around $5, or you can go for the Comic Con shuttle, which again, is free.
Getting to Comic Con from the Old Town area – you can also take the trolley, for around $5 daily.
Getting to Comic Con from the Downtown area – It will usually be within walking distance, so $0.
Comic-Con Badges With VIP After-Party Access
There is also a way of attending the Comic Con as a king. If you want to enjoy the all-in, premium experience, then you will have to spend big.
VipConcierge offers you the possibility of enjoying exclusive access to everything, including the preview night, with the best seats in the room, the best Comic Con parties, with the most popular being the Entertainment Weekly's all-out bash, along with a lot more perks and benefits for around $7,000.
https://www.thepricer.org/wp-content/uploads/2022/04/comic-con-ticket-cost.jpg
380
610
Alec Pow
https://www.thepricer.org/wp-content/uploads/2023/04/thepricerlogobig.png
Alec Pow
2022-04-25 06:34:29
2022-04-17 23:23:56
The Cost of Comic Con Tickets