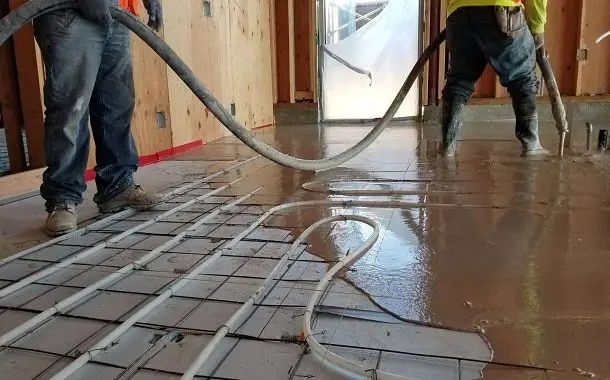 When you start with any building construction, especially when you're working on the place you will later call home, it's very important to balance the price with quality. This means that you will have to find the best possible materials to make sure you build something durable, while, at the same time, stay within your set budget to ensure that you can actually finish it.
This is where Gypcrete comes in. A building material that people call professional while at the same time durable, Gypcrete could do wonders for you. But what exactly is Gypcrete and how much will it cost?
The branded name, Gypcrete, trademarked by the Maxxon Corporation, is a type of structural material that is typically utilized as flooring underlayment, sound-canceling, and in wood-frame and concrete building for fire ratings and is extremely popular in houses, condo jobs, and hotel building and constructions.
A mix of sand, Portland cement, and gypsum plaster, Gypcrete, currently, has been the frequently used term by building and construction experts and was first used in the early 1900s.
Gypcrete Cost per Square Foot
The Gypcrete cost will significantly differ based on your location, the usual market price, the professional you pick, and the scope of your task in case of employing working a well-known contractor. From what we could find online, the typical cost, when working with an expert contractor, seems to be in the $2 to $6+ per square foot zone.
Also check out the price of stretch ceiling, a new roof, and to build a house.
For instance, an online forum thread, had one member say that they were asked for $2.33 per square foot for a 4,500 square foot floor covering job, poured 1.50 inches deep. This quote was made by a specialist who was using a "special" deal and was required to travel almost 150 miles to the place of contract.
Advantages and disadvantages of Gypcrete
Light and fireproof: It's very light and can withstand big fires, with the normal 1.5-inch slab weighing almost 13 pounds a square foot in contrast to 18 pounds a square foot for standard concrete. Although it is lighter in weight, it's still very durable when compared to concrete, particularly when utilized as either an underlayment and/or topcoat floor covering.
Soundproof: Aside from being fire resistant, Gypcrete is known as a much better alternative at soundproofing.
Fast installation time: In terms of time to install, the normal knowledgeable professional can install as much as 6 times the quantity of Gypcrete as compared to normal due to the runny gypsum.
No subfloor cracking: Nails can be pushed into the subflooring with no breaking. Splitting, on the other hand, can be seen in some jobs, depending on how it is installed.
Sealing: The business does state that Gypcrete can seal much better than standard concrete.
Higher prices: The expenses, as discussed, can be a lot bigger than the cost of standard concrete, which will typically cost $1.50 to $4+ per square foot. Likewise, due to the greater expenses, some note you might see it as more difficult to find a regional provider who works with this material.
Curing: Gypcrete takes less to cure at around 90 mins.
Shrinking: Experts who have actually dealt with the product claim that the concrete will shrink about any tubing where temperature levels vary, basically developing a less effective heat transfer from the tubes to the floor covering slab.
https://www.thepricer.org/wp-content/uploads/2020/09/gypcrete-cost-per-square-foot.jpg
380
610
Alec Pow
https://www.thepricer.org/wp-content/uploads/2023/04/thepricerlogobig.png
Alec Pow
2020-09-08 08:43:05
2020-09-23 20:07:22
The Cost of Gypcrete