A hot dog consists of a heated sausage, in an elongated roll of wheat flour, which is usually deep-fried or cooked. The roll is cut into two along slices and heated. Then the sausage is placed inside and decorated with warm sauces (ketchup, mustard, mayonnaise, etc.). In Scandinavia, fried onions are usually used, and, where appropriate, a few slices of pickled cucumber are also added. Oftentimes, even sour cabbage or cabbage salad will be used.
How much do hot dogs cost?
Hot dogs are known to be a cheaper option when it comes to food, but what you might not know is that there can actually be quite the range of prices depending on where and how they're bought.
For example, for an eight or 12-pack of hot dogs, you will pay anywhere from $3 all the way up to about $7. Some butcher shops may charge by weight because this really depends entirely on which type of meat was used in making them – so if you want one made with quality beef then expect your hot dog to cost closer to $5-$12 per pound.
You can find hot dogs at grocery stores for the price of only $7 per 24-pack and the costs will vary from brand to brand. For example, you can purchase from Sam's Club a pack of 24 Ball Park franks at the price of $8 while Costco has 1.5-pound packs of Bar S frankfurters costing close to $17.
The cost of a gourmet hot dog can vary from $17-$30 per pound, depending on the ingredients. You can buy from Snake River Farms in Jackson Hole Wyoming a one-pound pack containing 5 hot dogs for the price of $18.
Hot dogs are the perfect food to enjoy at any time of day: morning, noon, or night – there really isn't a bad time. One can spend anywhere from $5-$8 on one depending on the geographical area and the toppings the stand offers. It's not just about getting them off a street vendor anymore. Now it seems like every restaurant has its own spin with different versions that may cost more but taste better too.
You might also like our articles about the cost of French fries, tamales, or McDonald's Filet-o-fish.
The prices of different brands vary from store to store and you can see how much you would have to pay for a hot dog using the table below:
| Type/Brand of Hot Dog | Average Price |
| --- | --- |
| Applegate | $5 |
| Ballpark | $3.50 |
| Bar S | $1.50 |
| Boar's Head | $5.50 |
| Foster Farms | $5 |
| Hebrew National | $5.50 |
| Jennie-O | $1.50 |
| Johnsonville | $3.50 |
| Lightlift | $4 |
| Nathan's | $4 |
| Oscar Mayer | $2.50 |
| Sahlen | $5 |
| Store Branded | $3 |
| Sugardale | $2,50 |
| Vienna Beef | $6.50 |
Hot Dog details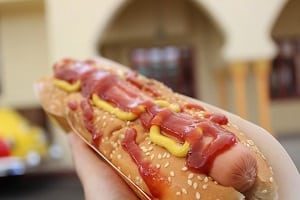 There are two things that you need to know before buying a hot dog. The first is the type of animal it's made from: usually pork, beef, or turkey. Secondly, what kind of fillers does the company put in their frankfurters. Some companies use trimmings and fat while others might be healthier, with just salt and garlic for flavoring. Pork or beef are most often the types of meat used in a frank; however, it can be made from turkey, which makes it just slightly healthier than traditional dogs, depending on how much you eat.
There are some sausages that don't have a skin or natural casing. This is because the meat for these types of sausage can be cooked and packaged without its casing on – which holds the filler together in most other hot dogs.
Local grocery stores are full of different brands and types to choose from. Brands like Ball Park, Oscar Mayer, Johnsonville, Hillshire Farm, Nathan's Bar-S, and Jennie-O, each offer a variety of options for their customers. Some packs will include eight hot dogs while others have 12 or less than that depending on the brand.
What are the extra costs?
Your hot dog experience will not be complete without the perfect accompaniments. You can choose from a variety of sauces, such as ketchup and mustard, or go for more adventurous offerings like sauerkraut and peppers with your favorite topping. All of these can be added at an additional cost if desired.
Important things to consider

Hotdogs will come with an expiry date printed on the packaging, so if you can't eat them before they expire and don't want to throw them out then it's safe to freeze the hotdogs for later. You'll need a few hours of preparation time in order not to overcook your meat when frying or grilling a hotdog, especially after freezing, but other than that there are no additional steps necessary. Hot dogs will last up to two weeks kept in the refrigerator as long as there aren't any other food items that may spoil nearby.
Hot dogs are a popular food for many people, but they don't always have the best reputation. They're often linked to health and weight issues thanks to their high sodium content or preservatives like nitrates that can cause cancer in some cases.
How can I save money?
If you're having a party or gathering, buy hot dogs in bulk to save money. Warehouse stores such as Costco often have the best deals on food items like this one.
In order to attract more clients, many name brand firms like Ball Park offer online coupons for discounts. Also, you can find them in the local newspapers, usually during important days like the 4th of July, Memorial, or Labor Day.
https://www.thepricer.org/wp-content/uploads/2021/08/hot-dog-cost.jpg
380
610
Alec Pow
https://www.thepricer.org/wp-content/uploads/2023/04/thepricerlogobig.png
Alec Pow
2021-08-05 06:18:13
2022-01-23 13:31:16
The Cost of Hot Dogs