The Cost of Hot Tub Movers
Regardless of whether you need to move a hot tub from one part of your home to another, or you need to drive it across the city, a professional hot tub mover will save you from a lot of work and will ensure that your hot tub is not damaged during transportation. These companies have experienced people, trucks, and equipment to safely transport your hot tub from point A to point B.
How much does it cost to move a hot tub?
There are many factors that will impact the amount of money you will have to pay a professional for moving a hot tub. Be prepared to spend, on average, $450 to $550 for moving a hot tub. The cost of this service ranges from $950 to $1,400 on the high end and $150 to $230 on the low end.
Table with Hot Tub Moving Costs
| | |
| --- | --- |
| National average cost | $450 |
| High-end cost range | $950-$1,400 |
| Low-end cost range | $150-$230 |
| Average cost range | $450-$550 |
Factors affecting the cost of moving a hot tub
As we mentioned in the beginning, the cost of moving a hot tub is affected by different factors. Some of these may include the size of the hot tub, whether it is moved on one level or has to be moved up or down stairs, the distance, and whether extra services like removing an old hot tub or installing new wiring are necessary.
No job is too small or big for the professional mover. Regardless of thether it is a party-size hot tub large enough to accommodate ten people or a small two-seater, they will even push it upstairs if necessary.
Also, they can remove your old non-operational hot tub, saving you the hassle of dumping and disposal. Moreover, they will level and balance your hot tub in the right position.
The cost of on-property flat hot tub moves
There are many hot tub owners who want to relocate this equipment within their house due to a patio addition, a house redecoration, or other reasons.
You might also like our articles on the cost of a Hot Spring hot tub, Thermospas hot tub, or in-ground hot tub.
The cost of moving a hot tub from one flat location to another is not the same as moving it upstairs or to another elevated location like a deck. Less equipment and fewer people are needed for this job.
In general, this work takes less than one hour and costs around $190.
The cost of on-property elevated hot tub moves
The costs may increase if you need to move your hot tub upstairs or onto another type of elevated area. More effort, people, and equipment will be required to lift a hot tub upstairs or to a raised platform.
In general, this job would take around one and a half hours. Expect to pay a flat-surface moving fee of almost $190, plus an additional fee of around $100 for the stairs, bringing to a total of $290.
The cost of moving a hot tub to a new location
It will be more expensive to move the hot tub from one location to another, or from the spa dealer to your house than to move it within your property. The costs will increase due to the labor involved, transportation, and extra time.
Some professional movers may have a flat rate for moving hot tubs, while others may charge based on hot tub sizes, mileage, or other factors.
For instance, Hot Tub Rehab in Austin, Texas charges around $360 for moving a hot tub across the town, plus $90 per hour for extra wiring work like installing a ground fault circuit interrupter (GFCI).
The cost of removing a hot tub
Be prepared to pay around $155 per hour for removing a hot tub. Hot tub movers would remove and dispose of a hot tub for a flat rate, in case you want to replace it with a newer model or the current one is not functional.
Hot tub movers cost per hour
There are hot tub movers that would charge you by the hour for moving your hot tub. In this case, you should be prepared to pay anywhere between $100 and $200 per hour.
How can I hire a professional hot tub mover?
When looking for a professional hot tub mover, there are a few steps you need to follow to ease your decision and choose the right one.
First of all, you need to determine your budget as this will help you figure out whether you can afford to hire a professional hot tub mover.
Then, you need to look for offers from multiple companies. It would be a good idea to choose a company that is specialized in moving hot tubs because they have moving trucks and the right tools for this job.
Finally, read the companies' reviews to see if the previous clients are satisfied with their services. A hot tub is a pricey investment, so you should protect it by working with a trustworthy company.
Advantages of hiring professional hot tub movers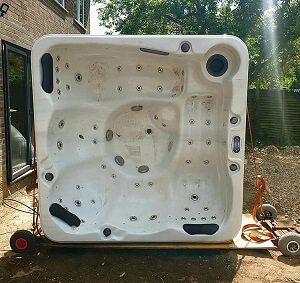 It is very difficult to move a hot tub, even for a group of strong friends. This is definitely not a job you can do alone because you can get injured. Moreover, you can put in danger those you ask for help with moving your hot tub. Not to mention that you may damage your brand-new tub.
Maybe the costs of hiring professionals to help you move your hot tub will make this decision hard, but there are many advantages to hiring help. First of all, they have enough manpower to safely move the spa. Also, their employees have experience with this type of work. They will come with the proper equipment, such as a stretch wrap, moving pads, and floor covering to protect everything around.
Special disassembly might be required or the hot tub might come with certain packing instructions, and a professional hot tub move has experience with most of these instructions.
In case an accident causes damage to your home or hot tub, in general, spa moving companies carry movers' insurance and full liability insurance to cover the repair costs.
If you hire a professional hot tub mover, you will have the peace of mind that the work is done safely.
How can I save money?
You can save some money on moving your hot tub by doing some of the services yourself. For instance, you can turn off, drain and clean the tub before the professional movers come in. Some professionals may charge extra for this work.
Also, you can pack some things yourself. For example, things such as motors, plumbing, heater, pumps, and electrical units, can be removed and packed separately to avoid being bumped around. Make sure you label everything and take photos to know how to install them back.
FAQs
Can I move a hot tub myself?
It is difficult to move a hot tub, but it is possible to go on the DIY approach for this job. However, you can not do it alone and you will need a minimum of four friends to help you. These spas are heavy and there are many steps you need to follow to do this work right. You should hire a professional if you don't have the time, strength, supplies, and extra hands to move a hot tub.
How much does a hot tub weigh?
Depending on how many people it can fit and, on the size, a hot tub may weigh around 400 to 900 pounds when it is empty.
It is worth moving a hot tub?
Yes, moving a spa may be worth your money, effort, and time. In case you are moving to a new house and you want to take the hot tub with you, you should think about moving it to your new place. But, if your hot tub is old and needs repairs, you should buy and install a newer model.
https://www.thepricer.org/wp-content/uploads/2023/01/Hot-tub-moving-cost.jpg
380
610
Alec Pow
https://www.thepricer.org/wp-content/uploads/2023/04/thepricerlogobig.png
Alec Pow
2023-01-19 06:19:47
2023-01-17 07:52:54
The Cost of Hot Tub Movers