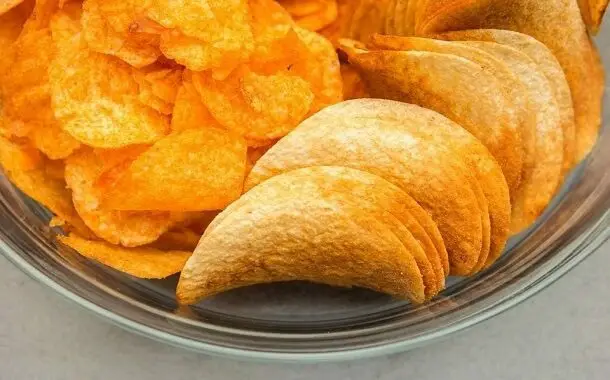 The chips are thin slices of potatoes, fried or baked until crispy. Ordinary chips are fried and salted, but there are other varieties that use different flavors and ingredients, including spices, herbs, cheese, and exotic flavors.
Legend has it that potato chips were born from a tiff between a little-known chef and one of the richest people in American history. The incident allegedly took place on August 24, 1853. George Crum, who was half African and half Native American, was working as a cook at a resort in Saratoga Springs, New York at the time. During his shift, a disgruntled customer sent back an order for french fries, complaining that they were too thick. Frustrated, Crum prepared a new batch using potatoes that were as thin as paper slices and fried to crispy. Moreover, in order to take revenge, he poured excess salt. Surprisingly, the client, who happened to be the railway magnate Cornelius Vanderbilt, liked it very much.
How much does a bag of chips cost?
Basic potato chips at your local grocery store will typically cost anywhere from $3 to $7 per bag, but prices vary depending upon size. Small bags can cost just $1.25 to $3 per bag.
Common brands such as Ruffles or Lays offer a 24 to 50 package of single-serve bags that weigh less than an ounce usually retailing for $0.50 to $1.20 per bag. However, the price will depend on the type of chips and quality, the cost for organic versions being higher because they're healthier.
You might also like our articles about the cost of potatoes, sweet potatoes, or french fries.
Economagic.com tracked the price of potato chips from 1980 and followed up until now. At the time this article was written, the average cost of a 16-ounce bag was $5.
Factors that influence the price
Brand names
It's a well-known fact that the name-brand potato chips are more expensive than their less popular counterparts. These brands will typically be of higher quality, but there are also exceptions when you can find not-so-known and cheaper products of the same quality.
The cost of raw materials
Potato chips are a typical snack that people enjoy eating on the go. They're made from raw products including potatoes, wheat, sunflower oil, spuds, and maize with prices depending on factors like economic conditions or how much is packaged in each bag/box (price per ounce).
Potato chips details
You can purchase potato chips in various sizes, shapes, and flavors. For example, Lay's offers 30+ different flavor options spanning from barbecue to cheddar cheese.
Potato chips can vary in texture and flavor. For instance, kettle-cooked potatoes will be thicker and more crunchy than traditional ones without being too oily or greasy at all.
A customer's allergies are important to consider when they buy a product. In this case, the ingredient list can be very helpful and will provide them with more information on what exactly goes into each bag of potato chips so that there aren't any surprises later down the line, like allergic reactions or other negative outcomes.
Some of the most popular brands are Lay's, Pringles, Munchos, Ruffles, and Synder's.
Important things to consider
When it comes to potato chips, less can be more. Read the ingredients for your favorite snack and make sure they're not using partially hydrogenated oil which is a source of harmful trans fats that will raise cholesterol levels in your body as well as affect heart health negatively over time. Look instead for products made with high monounsaturated fat (no more than 10%) like olive or sunflower oils.
Kettle-style potato chips are not washed in advance, so the starch molecules pack on more than usual. This results in a crispier tasting product with less grease and calories
Baked chips are generally lower in fat and calories, which can be beneficial when it comes to weight control. However, baked chips are not necessarily lower in sodium or potentially harmful compounds such as acrylamide.
Most varieties of baked chips are gluten-free and vegan, making them a popular choice for parties, especially for those with dietary restrictions or sensitivities.
Because they are made from potatoes, chips can also provide more important vitamins and minerals. In particular, some types of healthy potato chips can provide potassium, pantothenic acid, vitamin E, vitamin C, vitamin B6, and manganese.
Potato chips nutrition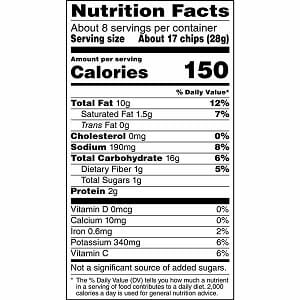 How can I save money?
Bulk buying is the key to savings. Single-serve bags are a great way for you to save money and help your diet.
Foodstuffs at dollar stores can be a great bargain. For example, some carry name-brand potato chips for less than what you would find on supermarket shelves.
Dealers and retailers who guarantee to offer the lowest prices are worth checking out.
Your favorite brands are always looking for ways to save you money. They might offer coupons in the local papers and on social media, or they might have special sales during certain events like Super Bowl Sunday.
You may be surprised to find that the grocery store brands are just as delicious and much cheaper than what you would buy from name brands.
There are many online stores that offer free shipping when you order from them.
https://www.thepricer.org/wp-content/uploads/2021/10/potato-chips-cost.jpg
380
610
Alec Pow
https://www.thepricer.org/wp-content/uploads/2023/04/thepricerlogobig.png
Alec Pow
2021-10-12 06:19:41
2021-10-12 06:19:41
The Cost of Potato Chips