With Versa-Lok you can install a low-cost, concrete retaining wall in different shapes without any mortar or reinforcement. It is installed to your specifications, requires no footings below frost level, and will withstand freeze-thaw cycles with ease.
Versa-Lok is the original pinning segmental retaining wall system that provides you with a vast array of design options.
How much does Versa-Lok cost per square foot?
The average cost of Versa-Lok will be anywhere from $22 to $35 per square foot installed.   The actual cost of a Versa-Lok walling project will be dependent on factors like the complexity of the project, height, shape, the type of Versa-Lok walling system, the contractor you're working with, and your geographical location.
Versa-Lok walls are an excellent choice for both DIYers and professionals. However, it is important to note that doing the installation yourself can significantly reduce the total cost of a project if you know the type of material to use and have access to the equipment necessary for installing Versa-Lock panels. We recommend getting as many quotes as possible before choosing how you want to complete this project.
You might also like our articles about the cost of wood or timber retaining wall, AirStone, or Fieldstone.
Rather than hiring a professional to do the project, you can just buy and install it yourself. This will cost about $4-$6 per block or around $6-$11 for each square foot of Versa-Lok paneling that you need. The total price depends on the type of Versa-Lok panels purchased as well as where you buy them from.
The calculator on the company's website will help you figure out how many blocks are needed to finish your project. These numbers might even save you some money in budgeting for the project.
We made a table below for the cost of materials, to make things a little easier for you:
| Type | Size | Price for materials (per square foot) |
| --- | --- | --- |
| VERSA-LOK® STANDARD | 6″ High, 16″ Wide, 12″ Deep | $7 to $9 depending on the color |
| VERSA-LOK® MOSAIC® | 10″ High, 24″ Wide, 12″ Deep | $7 to $10 |
| VERSA-LOK® ACCENT® | 4″ High, 12″ Wide, 12″ Deep | $7.50 to $9 |
| VERSA-LOK® COBBLE® | 6″ High, 8″ Wide, 12″ Deep | $7 to $8.50 |
| SQUARE FOOT™ RETAINING WALL SYSTEM | 8″ High, 18″ Wide, 12″ Deep | $5 to $8 |
Remember: This is the price for the materials alone. As a general rule of thumb, it is best to multiply the number given by two or three to get a final price. However, there are so many variables involved that pinpointing an exact price can be difficult.
According to a post on the GroundTradesExchange forum, a member was quoted $30 per square foot for the installation of their new wall.
Versa-Lok systems
Versa-Lok Standard – is a versatile unit with many installation locations. It can be installed in curved walls, corners, columns and freestanding walls giving it an edge over other units that are limited to flat surfaces only. This also makes it the most popular choice of the Versa-Lok systems.
Mosaic – is a system created by combining four-unit panels, one Cobble, one Standard unit, and two Accent units. This combination gives the walling project an interesting-looking pattern that has a lot of complexity to it.
Cobble – Cobble units are perfect for any kind of mini-landscaping project, including planters or low walls. They're about half the size of Versa-Lok Standard units and could be used in your garden to create great-looking designs.
Accent – is the slimmer, more garden-friendly version of Versa-Lok Standard. Accent units are perfect for pools and other landscape features in gardens.
Ultra – is the perfect unit for those looking to save on weight. It can be installed alone or integrated with other Versa-Lok units, and it's just as durable.
Nexus – is one of the most popular Versa-Lok systems for retaining ground. They are perfect if you need to cover a lot of space, and can be customized in many different ways.
Harmony – this retaining wall system is a Versa-Lok design that is made of both Standard and Cobble units.
Versa-Lok details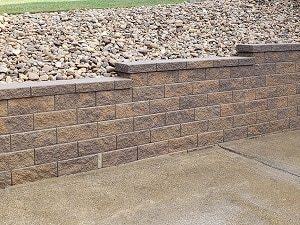 Versa-Lok walls are a revolutionary way to build without any costly frost footings. This dry stacking and interlocking wall is simply set on leveling pads, which means you can construct the entire thing up to fifty feet in height.
The walls come in a variety of patterns, textures, and colors. The manufacturer has several options for different types of finishes on the building faces like traditional textured split-face or natural Weathered look with various color choices to match any aesthetic. The usual colors people go for are chestnut, granite, gray, chestnut, and flagstone.
The Solid Units come with a range of options to ensure your layout is exactly as you want it. The top-pinning system will interlock the units while the hole-to-slot pinning system allows an installer to vary how tightly they are together, making sure every side is stable and sturdy in its place.
Important things to consider
These walls are as flexible and customizable as they come. They can be modified on-site to accommodate any layout imaginable such as freestanding walls, columns, planters, and seat walls just for starters. The best part is that these versatile structures don't cause any environmental hazards because the construction materials used in their manufacture aren't chemically treated or processed before use.
https://www.thepricer.org/wp-content/uploads/2021/06/versalok-standard-cost.jpg
380
610
Alec Pow
https://www.thepricer.org/wp-content/uploads/2023/04/thepricerlogobig.png
Alec Pow
2021-06-23 22:07:38
2021-06-23 22:07:38
The Cost of Versa-Lok