The Taco Bell $5 Box and Other Meals Under $5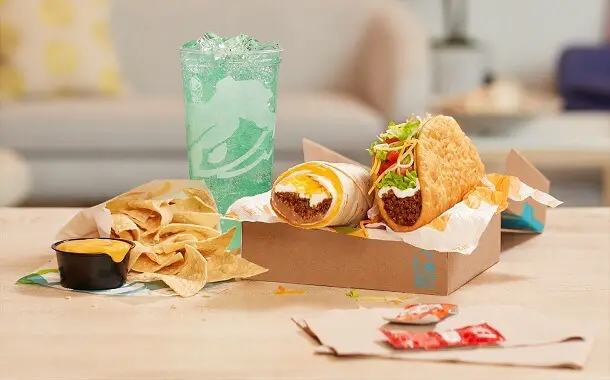 Many fast food chains pride themselves on offering quality food at affordable prices, with instant service – and of course, the best deals for consumers. They offer an abundant meal for only five dollars or less. Most of the time, this is a lot more than just a sparing meal with a small fry and a single cheeseburger. But who really reigns as the king of value, offering the cheapest fast-food meals?
Taco Bell $5 Box
Taco Bell may not be one of the most popular fast-food chains in the United States, but that doesn't mean it lacks a following. The first location of the Mexican-inspired quick-service chain opened in 1962 and has since grown to more than 7,000 locations and 350 franchises worldwide.
Their menu includes a wide variety of items including burritos, quesadillas, cinnamon twists, and crunchy tacos. Also, they offer specialty items, like the Cheesy Gordita Crunch and the Doritos Locos Taco.
Taco Bell offers its clients the possibility to create a full and tasty meal with only five dollars with their Taco Bell $5 Box. Some people call this the cravings box. They can mix food items such as bean burritos, hard tacos, beef burritos, soft tacos, regular fries, chalupa, nacho cheese, chips, caramel apple empanadas, cinnamon twists, and a 20-ounce drink, and get a delicious meal.
Regardless of whether you choose the same thing every time or switch it to something else, you will never feel disappointed for paying five dollars. If you are a light-eater or you are looking only for a snack, don't order the $5 Cravings Box only because it would be a good deal.
Taco Bell also offers other low-cost food items at prices starting at around $1. For example, there are the following breakfast offers: Breakfast Combo, Grande Scrambler, Cinnabon, and A.M. Crunchwrap. You should visit the official website or give the Taco Bell app a try to see their entire menu with prices.
McDonald's
McDonald's is famous for its dollar menu. We all love their one-dollar McChicken, but you should also try their five dollars (and less) deals, including Premium McWrap Chicken and Ranch; 2 cheeseburgers, fries or salad, and drink; Grilled Onion Cheddar Burger, a side salad and parfait; Bacon Ranch Salad; Southwest Salad and 20-piece Chicken McNuggets.
Also, you should take a look at their mega affordable breakfast options, such as 3 Hotcakes with Sausage; Egg, Bacon, and Cheese Biscuits, and the Cheese McGriddle meal that includes small coffee and hash brown.
If you are craving something sweet, you should order a McCafe or dessert. You would have to pay $0.40 to $3.50 for a pie, fruity smoothie, cookie, frappe, McFlurrie, iced coffee, hot coffee, or shake.
You should visit McDonald's official website to see all of their menu prices.
Wendy's
Wendy's offers many meals for $5 and less. Some of these include Broccoli & Cheese Baked Potato, Cheeseburger Deluxe, Bacon & Cheese Baked Potato, 6-piece Chicken Nuggets, small Chilli, Bacon Cheeseburger, Chicken Go Wrap, Double Stack and Caesar or Garden Side Salad. Also, you will love their $0.99 menu items, such as natural cut fries, Jr. Cheeseburger, 4 chicken nuggets, Crispy Chicken Sandwich, or a soft drink.
You should check the Wendy's menu prices by visiting their website.
Jack in the Box
Jack in the Box will have you covered if you are looking for a loaded breakfast burrito or a burger which is bigger than your face. Some of their combo meals or single-order items that cost $5 or less include the Jumbo Jack Cheeseburger, Classic Buttery Jack, Ultimate Cheeseburger, and Sourdough Jack.
Also, Jack in the Box offers snack items that cost less than $2. You should try their $1 egg roll and the 2 tacos for $1, as well. For "brunchfast", as they invented it, or breakfast, you should order one of the following: Jumbo Platter, Meat Lover's Burrito Combo, and 8-count Mini Pancakes.
Visit the Jack in the Box official website to see their entire menu with prices.
Final words
While each of the fast-food chains examined above has its own set of advantages, there is a clear champion of the drive-through in terms of cost and value. While many fast-food restaurants offer value menus, none are more important than McDonald's when it comes to value.
The fast-food giant has many menu items that sell for just $1 each, in addition to many meal combos and frequent promotions for discounted sandwiches, drinks, and more
https://www.thepricer.org/wp-content/uploads/2023/05/taco-bell-5-dollar-box.jpg
380
610
Alec Pow
https://www.thepricer.org/wp-content/uploads/2023/04/thepricerlogobig.png
Alec Pow
2023-05-07 06:03:51
2023-05-02 10:57:36
The Taco Bell $5 Box and Other Meals Under $5