Union League Membership Cost
The Union League of Philadelphia is a nationwide organization that was founded in 1863 to support Abraham Lincoln's policies. In other words, they wanted America and its governing bodies run by those who have implemented freedom for all rather than slavery or oppression.
Nowadays, the club is considered a private social gathering space with more than three thousand members. Here they come to network and dine with each other while also getting some exercises during their leisure time or taking part in special events that are hosted by the membership team.
How Much Does a Union League Membership Cost?
If you want to become a member of the Union League you will need the sponsorship of six members and go through an interview with the Admissions Committee, which has meetings every first Tuesday of the month. The annual dues are presented in the table below as they are written on the official website of the club. As you will notice, these greatly depend on the type of membership.
Membership Category
Dues
Initiation
Unlimited Golf
Initiation
Clerical
$1,050 ($91/mo)
– Tier 1: $600
– Tier 2: $25
Armed Services
$2,365 ($205/mo)
– Tier 1: $1,800
– Tier 2: $50
Junior (21-24 years old)
$1,385 ($120/mo)
– Tier 1: $1,000
– Tier 2: $25
$1,800
$1,200
Junior (25-29 years old)
$2,380 ($200/mo)
– Tier 1: $2,000
– Tier 2: $50
$2,400
$1,500
Intermediate (30-34 years old)
$3,228 ($285/mo)
– Tier 1: $3,000
– Tier 2: $75
$3,000
$1,800
Intermediate (35-39 years old)
$4,154 ($360/mo)
– Tier 1: $4,000
– Tier 2: $75
$3,600
$2,100
Active
$4,730 ($410/mo)
– Tier 1: $5,000
– Tier 2: $100
$4,000
$2,400
Note: You should take the information offered in this table just as an estimate even though it comes from the official website of the club because it is subject to change. If you want to find out the official pricing it is recommended to contact the official membership department of the club directly.
You might also like our articles about the cost of a membership with the Brookhaven Country Club, Druid Hills Golf Club, or Prestonwood Country Club.
For the Tier 1 initiation fee, you will have to pay upon the first monthly statement, while the Junior membership will be paid after four months. For the Tier 2 initiation fee, you will have to pay every month for over 36 months, but you have the possibility to get it back if you propose a new member.
Union League details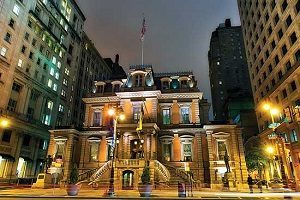 According to the official website of the club, members have a lot of benefits including a wide variety of dining options such as the chef's tasting kitchen, fine dining, buffet, wine cellar, and the pub style.
Also, the club offers overnight accommodation to its members, a luxury suite at Wells Fargo Arena, 15 unique private dining rooms, and a smoking room. For those going there with work in mind, there are two business centers and an executive fitness center. Members can take part in the events organized by the club, enjoy an affinity club or have their own events planned there.
If you pay some additional fees you will have access to more than 170 reciprocal clubs and a membership at the Union Golf Club from Torresdale. This club is located 12 miles away from the Union League Club and offers its members an 18-hole Donal Ross golf course, tennis courts, and a swimming pool, plus many dining options the members can choose from.
What are the extra costs?
If you are a Junior or Active member you will have to pay a mandatory fee of around $130 for food and beverages every four months.
Members can take advantage of the onsite services, but for an extra fee. The services that they have to pay for include massage therapy, public notary, barber, concierge, shoeshine, and library.
Important things to consider
According to the Club Leaders Forum, Union League Club is a top 50 in the most respected clubs in the United States.
The club has more than 3,000 members, according to the Philly Mag website.
The club has a strict dress code that the members have to respect. For example, during the weekdays, until Friday at 4:00 p.m. men have to wear jackets and the women an appropriate equivalent dress. Make sure you learn about this before going to the club, by visiting their official website.
https://www.thepricer.org/wp-content/uploads/2021/12/UnionLeauge-membership-cost.jpg
380
610
Alec Pow
https://www.thepricer.org/wp-content/uploads/2023/04/thepricerlogobig.png
Alec Pow
2021-12-22 13:06:06
2021-12-20 13:43:47
Union League Membership Cost