Walgreens is an American company that operates as the second-largest chain of pharmacy stores in the United States, after CVS Health. It specializes in supplementing recipes, health and wellness products, health information, and photo services. With more than 7,500 stores all over the United States of America, Walgreens benefits from great coverage and this made it come up with photo printing services.
However, this is not the first company that offers this service and it actually has many competitors. But Walgreens stays true to its goal set back in 1901, which is to offer quality pharmacy, everyday necessities, and photo printing services for all Americans.
How much does Walgreens' photo printing cost?
In the table below you will find the latest Walgreens photo prices.
Size
Price
Peel, Stick & Reuse Posters
11×14
$16.99
16×20
$27.49
24×36
$49.99
Board Prints
11×14
$16.99
16×20
$27.49
20×30
$37.99
Posters
11×14
$12.99
16×20
$17.99
20×30
$26.49
24×36
$32.49
Canvas
11×14
$43.99
12×12
$54.99
16×20
$65.99
Photo Books
8.5×11 Black Linen Cover
$22.49
8.5×11 Black Leather Cover
$32.99
8.5×11 Custom Cover
$32.99
Photo Cards & Invitations
4×8 Flat
$1.39
4×8 Flat (set of 20)
$16.99
5×7
$1.99
5×7 (set of 20)
$18.99
5×7 Folded Card
$2.49
5×7 Double-Sided Cardstock
$2.49
5×7 Double-Sided Cardstock (set of 20)
$32.99
Prints & Enlargements
4×4
$0.69
4×6 (75 or more)
$0.59
4×6 Wallets
$1.49
5×7
$2.99
8×8
$5.99
8×10
$4.99
Banners
2×6
$27.49
2×8
$37.99
Calendars
8.5×11 Wall Calendar
$21.99
Products and Services
Walgreens is specialized in offering various photo products and services that can be customized in order to meet every customer's needs. Like the majority of photo printing services companies, Walgreens provides products and services that include photo cards that come in different sizes and formats: note cards, 4×8, collage, 5×7, folded, and many more. Also, they have other popular products you can find in a photo print shop like typical printing, passport photos ($14 for two 2×2 inch photos), and photo enlargement at prices that start at around $0.50 per piece, plus many more. The prices charged by Walgreens Photos are reasonable and competitive.
You might also like our articles on the cost of Meijer photo services, Costco passport photos, or UPS fax services.
Also, you can print your favorite photos in different formats and transform them into a gift. For instance, it is very popular among customers to catch the important moments of their lives like the wedding ceremony and put them in canvas prints. A gift such as a classic photo book with your child's years growing up or other important moments from your family life will always be a great gift and will not run out of style. You will never fail with a gift such as calendars. These will never run out of style and are ideal for anyone. In case you need posters to promote your business and marketing, you can print these at Walgreens.
Some other services available in all Walgreens stores, with some even available online, include DVD transfers, scrapbook pages, photo blogging assistance, and magazine covers. Also, you can find a large variety of products needed for different occasions like birthdays and weddings. So, you can get invitation cards for your kid's party, simple save the date cards, personalized address labels for your wedding, or even a large tarpaulin. Some of these are even available for pick up the same day you ordered them.
Why Choose Walgreens Photo?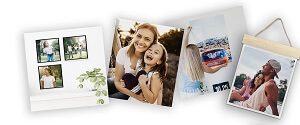 Walgreens is more popular than other photo printing shops around the country that offer customized products and services because it makes an extra effort to meet every customer's needs. Here you can find almost any type of gift you would like electronic gadgets, key chains, holiday ornaments, mouse pads, glass, or clothing, and print your photo on them. This would be the most individualized gift you could get.
In addition, Walgreens offers valuable services such as passport photography, real film development, and digital transfer services. You can transfer photos and home movies from VHS, movie reels, memory cards, slides, and DVD photos.
Customers say that the Walgreens photo printing services have met their expectations in every way. The site is easy to navigate, the photo books are easy to make, the shipping is fast, the prices are reasonable, the promo codes are plentiful, the packaging is good, the quality is excellent and there are so many photo options and services available. They have found that Walgreens is one of the best online photo printing services. If you have a Walgreens in your area, you can even pick up certain orders on the same day you ordered them.
Walgreens offers so many prints, photo products, and photo services. You can upload your photos to the Walgreens website, or use your photos from Facebook, Instagram, or Google Photos.
Besides the large variety of products and services, Walgreens offers discounts and promotions regularly to its loyal customers. Moreover, the prices charged by Walgreens Photo are very competitive. Though shipping is not free or even all that cheap, so keep this in mind as you order.
https://www.thepricer.org/wp-content/uploads/2022/07/walgreens-photo-services-cost.jpg
380
610
Alec Pow
https://www.thepricer.org/wp-content/uploads/2023/04/thepricerlogobig.png
Alec Pow
2022-07-06 08:42:14
2022-07-06 08:42:24
Walgreens Photo Prices