A butterfly tattoo, which can be found on the wrist, lower back, and ankle among other places, is drawn in a wide range of sizes, colors, and shapes.
Historically symbolic of love or rebirth though traditionally seen as an emblem for femininity due to its graceful shape; it is often worn by women who wish to express these feelings through their body art.
How much does it cost to get a butterfly tattoo?
A butterfly tattoo costs anywhere from $50 to a few hundred dollars, depending on the size of the design, along with some other factors. For example, a simple wrist or ankle-sized tattoo can cost as little as $50-$200 while larger designs that take up your entire lower back might end up costing upwards of $500. You will also pay somewhere around $500 for a 3D butterfly tattoo, a newer, but already very popular tattoo type. Most shops will have minimum prices for tattoos but they vary widely based on location.
You might also like our articles about the cost of an angel wings tattoo, an inner lip tattoo, or a finger tattoo.
Some people have unique tattoos that are located in unusual places. One woman posted on WeddingBee a picture of her butterfly tattoo behind her ear that had a cost of $50 due mostly to its small size.
Any extra costs to consider?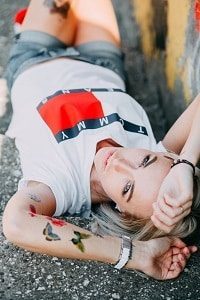 With additional colors or larger-than-average designs, you may receive a higher estimate by as much as 20 to 40 percent. The same can also be said for custom butterfly drawings instead of choosing one of their stock design templates.
Tips are common in the tattoo industry, and most artists will expect a tip for their work. This should be 10 to 20% of what you paid for the full tattoo work. Aftercare products need also budgeted – moisturizers can cost up to $15 per bottle online.
Important tips to keep in mind
After getting a tattoo, you need to make sure that you take proper care of it. You should keep the area moist and covered with ointment for at least seven days or two weeks after the process is complete. If any signs of an infection are present, see your doctor immediately. Tattoosme has more than fifty butterfly tattoo designs and other designs as well, along with their meanings.
Is there a way to spend less?
If you're thinking about getting a butterfly tattoo, make sure to get it from an experienced and reputable artist. Even if the process ends up costing more money in the long run, at least know that your health is safe! Infections are no joke; they can cause hospitalization which would rack up some bills.
You should always research artists before you contact them. If the artist has a website, look at their portfolio to see what they are capable of doing for your project, and be sure to note any specialties or mediums that interest you so it is easier when talking with them on the phone. Ask friends if they know an artist who can do custom work like yours; word-of-mouth recommendations will often result in lower prices and professional work at the same time.
https://www.thepricer.org/wp-content/uploads/2021/05/butterfly-tattoo-cost.jpg
380
610
Alec Pow
https://www.thepricer.org/wp-content/uploads/2023/04/thepricerlogobig.png
Alec Pow
2021-05-29 20:57:03
2022-12-25 09:56:16
Butterfly Tattoo Cost