Chelsea Piers Gym Membership Cost
The Sports Center at Chelsea Piers is known as one of Manhattan's most prominent gyms, located in the heart of New York City next to One World Trade Center. This spacious facility has plenty for everyone, from beginners to avid athletes.
How much does a Chelsea Piers gym membership cost?
The costs per month at this gym are said to be anywhere between $150 and $240, which is a little more expensive than most other fitness clubs in your area. However, it does not advertise its prices online, so we were able to find estimates from different publications as well as postings by current members, on various social media sites like Twitter or Facebook about what these rates might be. Depending on the current promotion and the time of the year, one family may pay nothing or as much as $620 as the one-time initiation fee.
Expect to pay somewhere between $150 and $200 per month for a membership fee at The Sports Center at Chelsea Piers in New York, according to Timeout.com.
You might also like our articles about the cost of membership at the California Family Fitness, Olympic Club, or O2 Fitness Center.
According to PureWow.com, the monthly fee starts at $130 and goes up to $240, depending on the type of membership.
A member on a Reddit forum thread stated that he was charged $185 per month for a gym membership. On the other hand, according to another member, the corporate rate is only $70.
Chelsea Piers gym membership details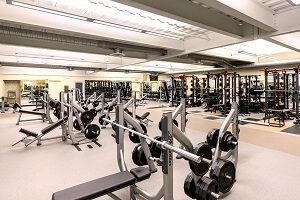 The club offers a variety of membership options to suit your needs. The Platinum Membership is perfect for those who want the best amenities and services available while keeping it at an affordable level. Corporate Members get gym access any time at no extra cost, as well as other great benefits. If fitness isn't really what you're after but would love some company during workouts then consider Junior or Senior Fitness Passes. Also, there is a membership for students looking for discounted rates while attending college full-time. If you are really busy during the week, then you can opt for the weekend membership.
The Sports Center is the ultimate destination for all your sports needs. With an indoor sand volleyball court, a six-lane 25-yard swimming pool, a boxing ring, three basketball courts, and much more there is always something for you inside this gym. Also, you can choose from circuit training or strength exercises in order to stay fit. As for relaxation, you can enjoy the spa and sun decks.
The Chelsea Piers Gym has more than 150 classes to suit anyone's needs, with options ranging from yoga and boxing to swimming. The schedule is set so that members are able to take part in at least one class per month.
With the Platinum membership, you will receive two hours of complimentary parking and access to the Connecticut location. You also get a complimentary locker with this package.
How can I save money?
The gym offers promotions to make it more affordable. For instance, they have a $9 initiation fee that is said to be worth up to $620 in value. Another promotion offered by this particular fitness center at the time of my writing was 'buy one month get another free' if you would sign up for both months on your first visit.
Find out if your company offers any discounts for employees. If they do, be sure to take advantage of this promotion.
If you are a student or senior, you can benefit from some discounts.
A weekend membership is an excellent option for those who want to use the club on Friday evenings, Saturdays, and Sundays. These memberships are cheaper than single-day passes but come with some restrictions, such as only being able to enter during certain hours of operation (for example 8 am – 5 pm).
Groupon is a great way to get access to the gym for less. To give an example, they have offered a two-week access pass for only $45.
https://www.thepricer.org/wp-content/uploads/2021/10/Chelsea-piers-gym-membership.jpg
380
610
Alec Pow
https://www.thepricer.org/wp-content/uploads/2023/04/thepricerlogobig.png
Alec Pow
2021-10-07 07:55:23
2021-10-07 07:55:23
Chelsea Piers Gym Membership Cost