Chick-fil-A Franchise Cost
The US fast food sector is unlike any other in the world in terms of size and number of players in the market. Fast food establishments typically sell food prepared quickly and in bulk. The drive-through is a popular feature of these establishments because it allows customers to buy food quickly and conveniently. Numerous US fast food joints have standardized their products to form franchises with operations across the nation as well as around the world.
Chick-fil-A is such a fast-food restaurant, with around 2,500 locations all over the United States and annual systemwide sales of more than $10 billion. This family-operated quick-service eatery is specialized in serving boneless chicken-based meals.
Over time Chick-fil-A has sparked some controversy with its focus on family and outspoken Christian values, but at the same time attracted a lot of customers.
Chick-fil-A franchise overview
Chick-fil-A is actively looking for new franchisees and the owners who are accepted are invited to go through a multi-week, extensive training program. This will be organized before the restaurant's opening, but the new owner will receive follow-up support as well.
Also, this training lasts around six weeks and will teach the operators how to run a fast-food restaurant. You will learn about business planning, food preparation, marketing, accounting, management skills, customer relations, purchasing, communication, maintenance, and many more.
This company has plans to expand especially all over the American Mountain and Midwest states, but also in Florida, California, Northeast, and Texas.
A condition imposed by Chick-fil-A to the franchisee is to keep the restaurants closed on Sundays.
You might also like our articles on the costs of opening Popeye's, Dutch Bros. Coffee, or 85 Degrees Bakery franchises.
Since 1994 Chick-fil-A is the title sponsor of the college football team "Peach Bowl" from Atlanta.
The comical Cow Campaign was a real success in promoting Chick-fil-A restaurants and its motto is "Eat mor chikin".
Chick-fil-A history
The history of Chick-fil-A starts back in 1946 with Truett Cathy. That year he opened his first restaurant in Hapeville, Georgia, named "The Dwarf Grill". But Truett founded Chick-fil-A in the early 1960s by opening restaurants in shopping malls starting in 1967. Since its opening, Chick-fil-A company has grown into the second-largest quick-service chicken restaurant chain in the United States of America.
Chick-fil-A Franchise Initial Investment/Cost/Income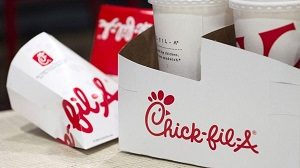 The Chick-fil-A company has a specific franchise business model. If you want to become part of the Chick-fil-A franchise, you should be prepared to pay $10,000 for the franchise fee. The expenses for the equipment, construction, and land will be covered by the Chick-fil-A corporation. After that, you will have to pay 50% of the pretax profit remaining plus 15% of sales for the franchise rent. Even though the startup costs are very low, the monthly payments are higher than usual.
Moreover, you will never be a business owner, but an operator. Actually, you don't own the store, so when you want to retire, you will not be able to make it part of your inheritance or sell it. The Chick-fil-A company is the owner of the local business and has full rights over intellectual and physical property.
Other information about Chick-fil-A franchise
Chick-fil-A franchise operators must sell only the Chick-fil-A brand items and other products which are approved by Chick-fil-A. Also, all operators are required to offer all items that Chick-fil-A designates as mandatory for all franchisees or for their specific franchised Chick-fil-A associated food truck or restaurant.
Even though a Chick-fil-A franchise may be a relatively safe investment, it is not free of risks. The franchisor can sue the franchisee and terminate their agreement over ticky-tack complaints and this will damage if not completely ruin their business.
Chick-fil-A receives more than 20,000 franchise applications per year, but they accept only 75% to 80% of these. So, the competition for this type of business is very strong.
Their selection process may take anywhere between one and two years. So, if you want to become a Chick-fil-A franchisee, you should be prepared for a difficult and long process.
How profitable is a Chick-fil-A franchise?
The Chick-fil-A company is one of the most profitable fast-food restaurant chains in the United States of America, with more than $11 billion in sales each year. It is only behind McDonald's which has sales of more than $40 billion per year. Chick-fil-A restaurants make around $5.3 million in annual sales and owners earn around $220,000 per year, on average.
https://www.thepricer.org/wp-content/uploads/2022/11/chick-fil-a-franchise-cost.jpg
380
610
Alec Pow
https://www.thepricer.org/wp-content/uploads/2023/04/thepricerlogobig.png
Alec Pow
2022-11-14 08:59:14
2023-09-16 10:25:20
Chick-fil-A Franchise Cost