Classical Conversations Cost
Last Updated on September 14, 2023 | Written by CPA Alec Pow
First Published on April 13, 2023 | Content Reviewed by

CFA Alexander Popivker
Homeschooling is nothing new. In recent decades, more and more parents have opted to take care of all aspects of their children's education without enrolling them in a traditional educational institution.
Education at home (the exact translation of the term "homeschooling") means educating your children outside of a public or private school. Although most of the learning takes place at home, it is far from the only place where children learn. Some parents faithfully follow a program and organize a real class for their children in one of the rooms, with study hours and homework.
Others have only a few subjects considered "basic" to which they dedicate a certain amount of time per day, in a structured or more free way. Some families practice what John Holt called "unschooling", where they do not have a curriculum or even basic subjects, but give their children the freedom to learn what, how, when, and how much they want.
In this article, we are going to talk about the cost of the Classical Conversations program, which is a great co-op and supplement option for homeschooling. Keep in mind that this is not a replacement for your homeschooled children, as some families seem to think.
How Much Does Classical Conversations Cost?
Classical Conversations comes at a cost that really can't be considered low. It is around $20 per child, per day tuition, without including all the book costs and other fees, which we are going to talk about in the following lines.
You should plan on spending around $350 per child for the tuition fee for each program. So, if you have a kid enrolled in both, Essentials and Foundations, you will have to pay $700. These fees would go to the director and tutor. It is said that the tutors receive 70% of the tuition of the children in their class and the CC community director gets 30% of everyone's tuition.
The Registration Fee is around $95 for the first child and $65 for each additional child. This money goes to Classical Conversations Corporate.
The Supply Fee is $30 per year per student in Essentials and $60 per year for each child in Foundations.
Students are required to wear uniforms and it would cost around $40 per child, depending on what deals and promotions you are able to find at your local retailers.
An alternative to the uniforms is the CC T-shirts which cost around $15 each.
Each family has to donate around $35 to the hosting church for the building rent. However, it depends on the community as some may have free rent, while others have high rents that would be split between all members.
You will have to budget for the nursery as well in case you have a baby because the parents must sit in on the classes and offer their help. Plan on spending around $120 per year for it.
There is also a snack fee of around $8 per child per year.
You can stay connected with the entire CC community through their online site and forum by paying a fee of around $9 per month. Here parents share their ideas about how to use and teach the week's lessons at home.
The Miscellaneous Fees include the T-shirts, fundraisers, field trips, and others, and would be around $180 per year.
Books and learning materials costs
A great cost to consider when enrolling your children into the Classical Conversations program is represented by the books and basic materials. Fortunately, the basic materials for Foundations can be used for all three cycles. You can add supplements, but these are very expensive and you can't find them in homeschool book exchange groups or online.
Actually, this company makes efforts to stop all non-CC book sales. This means that if you want to just join the program from home (which is possible) it would be very hard for you to find the necessary materials. Practically, you are somehow forced to purchase the CC books.
The cost of the Essential Materials
You will need the basics when you first start the program. In the first year you will have to buy the following:
| Item | Price | Reusability |
| --- | --- | --- |
| History-Based Writing Lessons | $40 | One-time |
| Essentials of the English Language | $75 | Reusable |
| History Teacher's Manual | $40 | Reusable |
| IEW TWSS Syllabus | $45 | Reusable |
Total: $200 plus free shipping
The cost of the Foundations Materials
| Item | Price | Reusability |
| --- | --- | --- |
| Cycle CD's | $45 | Annual |
| Foundations guide | $80 | Reusable |
| Tin Whistles (4 at $12 each) | $48 | Reusable |
| Timeline Cards (4 sets at $25 each) | $100 | Reusable |
Total: $273 plus free shipping
Overall costs
You should plan on spending around $1,100 per child for enrolling her/him in the Classical Conversations program. Here is the overall cost breakdown:
Registration: $95
Tuition: $350
Basic materials just for Foundations: $270
Supply Fee: $60
Miscellaneous fees: $180
Facility Rent: $35
CC Connected: $9
Uniforms: $40
CC T-shirt: $15
Snack Fee: $8
Classical Conversations overview
The CC (Classical Conversations) is an international program where, in general, families that homeschool their children meet once a week to learn and memorize information from different subjects and then get the resources and tools to follow the classical education model at home.
You might also like our articles about the cost of Montessori Academy, Kiddie Academy, or LA Petite Academy.
These classes are taught by parents of registered children, who are called tutors. They are trained to teach the Classical Conversations method. The meetings are held in local churches or other rented spaces, similar to other co-ops. There are many locations across the United States, but also all over the world.
Some parents use this method as a supplement, while others base their core curriculum around it.
The Classical Conversations program is divided into three parts, as follows:
Foundations, which is the grammar stage and takes one morning per week;
Essentials, which is the dialectic stage and takes a couple of hours per week;
Challenge Program, which is the rhetoric stage and takes all day one day per week.
The advantages enjoyed by homeschooling children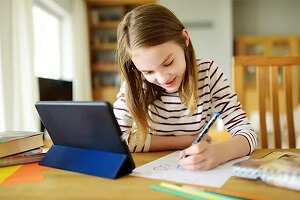 Looking at this situation objectively, it is clear that there are both advantages and disadvantages. Among the main advantages that we can list regarding this particular education system is the involvement of parents in the child's educational process.
This involvement welds the parent-child relationship and generally strengthens family relationships.
Also, the child spends a lot of time at home, in the bosom of the family, which gives them a feeling of well-being, and relaxation, as they are familiar with everything and feel protected and safe.
Another big advantage is that the little one is doing what he likes. He channels all his energy and strength to those areas that he is passionate about and for which he has native inclinations.
The biggest disadvantages
The above advantages come with a series of shortcomings, which the homeschooling system will never be able to compensate for, no matter how well it develops in the future.
Although the parents who opt for this system make sure that the little ones carry out activities, do sports, and go out in the open air, the natural socialization at school cannot be compensated by going out to the park with a group of friends from the neighborhood.
Also, children in formal education systems develop practical skills independently of their parents. Often, they learn to go to school alone, to return from there, to be away from their parents for several hours a day, during which they develop differently than in the permanent company of their parents and family.
Children, like adults, need their space and time, they need to feel useful and independent.
https://www.thepricer.org/wp-content/uploads/2023/04/Classical-Conversations-cost.jpg
380
610
Alec Pow
https://www.thepricer.org/wp-content/uploads/2023/04/thepricerlogobig.png
Alec Pow
2023-04-13 08:23:18
2023-09-14 12:39:03
Classical Conversations Cost