Kona Ice is a well-known shaved ice truck franchise in the United States with units ranging from carts, kiosks, and trucks. However, most of them tend to be trucks. Usually, Kona Ice does not have a static address of the business, so you will have to always look on their website to find which truck is closer to you.
Kona Ice offers an individualized experience for each customer with its various flavors and technology which allows the clients to mix up the flavors and choose how much syrup they want. Kona Ice does not sell only ice cream, but a complete experience with tropical, breezy music and a colorful truck.
Depending on the location and cup size, the Kona Ice prices tend to be anywhere between $3.5 and $7. However, in the table below you will find the latest Kona Ice menu prices.
FOOD
SIZE
PRICE

Shaved Ice Cups

Kowabunga and Color Changing Cups Receive $3.00 Refills
Color Changing Cup
 
$6.00
Cup
Kowabunga
$6.00
Cup
King Kona
$5.00
Cup
Regular
$4.00

Birthday Package

Each Cup Over 24
1 Cup
$3.25
Birthday Package
24 Cups
$125.00
Brand History
The history of shaved ice starts back in Ancient Rome, but Kona Ice started in our modern times, more precisely in 2007. This company was founded by Tony Lamb in Florence, Kentucky. He wanted to create a frozen dessert truck of superior quality and just one year after opening the company starts franchising.
This business was very successful since its beginning and continues to grow and expand in the present time as well. In 2012, they created the Kona Mini, made to sell snow cones inside, and one year later, in 2013 was rated by the Entrepreneur magazine as one of the fastest-growing companies in America. Also, in 2014 it was named as one of the best eight franchise businesses in the United States.
You might also like our articles on the menu prices for Tropical Smoothie Cafe, Cold Stone Creamery, or Freddy's Frozen Custard.
Kona Ice is very involved in the community through various projects. For instance, in 2014 they joined forces with the Northern Kentucky University and created an internship program. Also, they donated $2,000 to one of Northern Kentucky University's business-oriented departments. One year later, in 2015 they created a partnership with the Make-A-Wish Foundation and donated $25 million.
Nowadays, there are more than 1000 Kona Ice trucks in 48 states of the United States.
Our review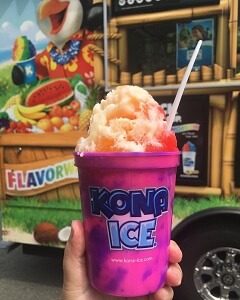 Kona Ice shaved ice trucks are different from the usual ice cream trucks. With Flavorware, a patented dispenser of flavor built into the truck, clients can mix however many flavors they wish. Also, they can request condensed milk and a scoop of vanilla ice cream. There were customers that complained about the fact that the ice cream is not really shaved, but rather crushed. This would result in a different experience and texture.
Kona Ice is better than other frozen treat or ice cream trucks thanks to their nutritional values. There are different types of ice creams infused with various B vitamins, vitamin D, and vitamin C such as Klassic, Sugar-Free, Vita-Blend, and Isotonic Performance Blend. For instance, their Klassic flavors contain 60% less sugar than other ice syrups that are flavored.
The prices charged by Kona Ice for its products are affordable and reasonable. For example, an 8-ounce cup, which is the smallest, costs around $3, while for the "Kowanbunga" 22-ounce cup you will have to pay around $6. Also, you can choose between the 12-ounce and 16-ounce sizes. At Kona Ice, you will find a large variety of ice cream flavors at a good price.
Usually, Kona Ice caters for events such as children's birthday parties or even company gatherings. As this is a mobile business, Kona Ice will bring its truck to the event. Moreover, they use their Kona Mini in order to cater for the events organized inside.
Kona Ice FAQs
Is Kona Ice healthy?
In general, Kona Ice products are healthy. Moreover, if you choose their Vita-Blend you will enjoy a product that is 40% lower in sugar, nut-free, dairy-free, gluten-free, and does not contain any high fructose corn syrup. Also, you will get a good dose of Vitamin D and Vitamin C.
Does Kona Ice have sugar in it?
Kona Ice has zero sugar, zero calories, and zero carbs. It is sweetened with all-natural Stevia and everyone can enjoy this treat.
How many Kona Ice locations are there?
There are more than 1,000 in 48 states in the United States of America.
Does Kona Ice used food dye?
No, Kona Ice does not use food dye. All of their products are gluten-free, sugar-free, dairy-free, and dye-free.
How many calories are in Kona Ice?
Kona Ice has zero calories, zero sugar and zero carbs.
What flavor is Tiger's blood Kona Ice?
The Tiger's Blood flavor is a mix of strawberry and watermelon with a hint of coconut.
https://www.thepricer.org/wp-content/uploads/2022/06/Kona-ice-menu-prices.jpg
380
610
Alec Pow
https://www.thepricer.org/wp-content/uploads/2023/04/thepricerlogobig.png
Alec Pow
2022-06-13 07:25:43
2022-06-07 07:44:28
Kona Ice Menu Prices