How Much Does a Meadowbrook Country Club Membership Cost?
Last Updated on October 26, 2023 | Written by CPA Alec Pow
First Published on October 19, 2021 | Content Reviewed by

CFA Alexander Popivker
The men of Northville wanted to have a place where they could go play golf and socialize. They found this idea so alluring, that in 1916 the first private club was formed by 23 businessmen from Michigan that bought 125 acres of land from a farmer named Cochran. And since then, the club has grown into something much more than just a golf course.
How much does a Meadowbrook Country Club membership cost?
The price of membership at the Meadowbrook Country Club depends on what you're looking for. For example, if your priority is to enjoy an elegant feel with all included benefits then apply for one of their Junior Executive or Social memberships, but if exclusivity and private courses are more important than socializing go ahead and invest in a Class "A" level card instead.
The Class A membership is a very exclusive group that only has 325 members. Monthly dues are $550, and they also have to pay $650 quarterly costs for food and beverages in addition to an initiation fee said to be around $50,000.
The Junior Executive membership has an initiation fee of $26,000 and monthly dues are currently set at just over $550.
A non-golf membership at this exclusive club has an initiation fee of $3,700 and monthly dues that can vary from a low rate of just over $150 per month to as high as $300. The prices were extracted from their public listings but changes can happen anytime, so please be sure to check when you decide to become a member.
You might also like our articles about the cost of membership at the Upper Montclair Country Club, Congressional Country Club, or Canoe Brook Country Club.
If you want to join the club, it's not as easy as just showing up and asking for membership. You need recommendation letters and endorsements from two Class A members who aren't members of the Board of Directors so they can interview your application before posting for approval by the general membership. Then you have to submit your application to the Board of Directors to receive the final approval.
According to a Crain's Detroit Business article, the cost of a Class A membership is $46,000 and the number of members is limited to 325.
The membership options
Social
This limited membership class of 110 people has the same minimum house charges as Class A membership and it gives the privilege to play golf twice per month with another club member. A social member cannot assume office or vote but she/he does get other amenities except for using facilities on site like greens, fairways, etc.
Full Class A
A Class A membership gives you and your family access to all of the club's privileges. You will also have a certificate representing an interest in every asset and property that they own, which is eligible for any assessments paid by directors on behalf of capital improvements or operating costs they may want to impose.
Junior Executive
Junior Executive membership is designed for members in the 21-39 age range. It includes all privileges for the primary member and family with no voting rights or asset ownership but comes at the same minimum charge as Class A membership. Junior executive memberships are limited to 10.
Meadowbrook Country Club details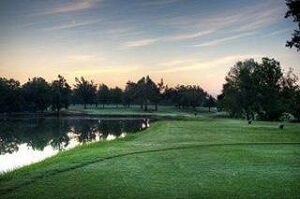 The golf course of this private country club is considered one the best in Southeast Michigan. With its rolling terrain and dense fairways, surrounded by natural bodies of water and wildlife, it can be considered a perfect place for any golfer. You will have an opportunity to practice your shots on the driving range before playing the 18-hole course through beautiful scenery. All the members can get golf lessons. The Junior Golf Program at The Club is designed for children aged 9 and up. Little Linkers is for children up to 8 years and younger. At the Pro Shop, you can find quality golf goods such as golf clubs, balls, and custom clothing so you can play your very best game no matter what level of experience or ability you have.
The pool complex has a variety of amenities for all members, from the official lap pool to an Olympic size one. There is also a wading pool for the little kids. In this complex, you can also find a TV room, a game area, and locker rooms. Members can enjoy the poolside snack stand or get served by the poolside waitress. There are pool games, swim nights, and poolside parties organized periodically.
The tennis court at this club is a great place to play, socialize, and enjoy the summer sun. With two Har-Tru clay courts as well as two asphalt ones strategically placed near parking spaces for members' convenience. The renovated facility features an all-new tennis house with a deck area complete with restrooms. There are hosted sports events, inter-club competitions, or invitationals.
The Meadowbrook Country Club is the perfect place to host your next event. The banquet and dining rooms offer a variety of options for any size wedding, corporate meeting, or private party. The Costella Room can seat up to 50 guests while the Cocktail Lounge has enough room for about 60 people. If you need more space there's also the ballroom where up to 350 people can be welcomed to attend your event.
What are the extra costs?
There may be extra fees for the storage and locker rooms.
If you want to invite a guest to this club then you have to pay some additional fees. As your guest, she/he can enjoy the tennis courts or the pool.
You can take private lessons and participate in tournaments and leagues for some extra costs.
In order to attend one of the social events often held during the year, you have to pay a fee.
https://www.thepricer.org/wp-content/uploads/2021/10/Meadowbrook-Country-Club-membership.jpg
380
610
Alec Pow
https://www.thepricer.org/wp-content/uploads/2023/04/thepricerlogobig.png
Alec Pow
2021-10-19 20:54:54
2023-10-26 13:20:51
How Much Does a Meadowbrook Country Club Membership Cost?