Ocean Reef Club Membership Cost
The Ocean Reef Club is known for its "unique way of life." The magic behind this quote lies in how it captures the essence of what makes living at ORC so great. With beautiful weather, friendly staff members and residents alike there's no doubt that you'll feel really welcomed when joining them.
The oceanfront condos, villas, and family residences at the Ocean Reef Club are a slice of paradise. The exclusive community is located in Key Largo, Florida, and offers amenities such as security cameras for safety along with gated entrances to ensure your peace of mind while you enjoy this beautiful escape from reality.
When firstly formed, in 1948, the members of this private club originally met to discuss fishing grounds, but over time they added various activities such as yachting and tennis. Over the years it has become more than just a place for fishermen. Today's visitors can participate in swimming lessons or shop onsite while their ship awaits them at an offsite location nearby.
How much does an Ocean Reef Club membership cost?
According to the club's official website page, you can choose from two types of membership: legacy membership and social, equity club membership. No matter what type of membership you are going for, you have to respect all the club's policies, regulations, and rules. All the members have to abide by these conditions and requirements. In order to join the club, you have to pay an initiation fee, and after that, the cost will depend on the type of your membership. In the table below you will find the initiation fee and annual expenses.
| Membership Class | Initiation Fee | Annual Dues |
| --- | --- | --- |
| Local Social | $40,000 | $5,800 |
| Non-local, Non-resident Social | $11,500 | $3,300 |
| Property Equity (This equity will be sold separately from a property) | $215,000 | $8,000 |
| Summer only (valid from May to the end of October) | $20,000 | $3,700 |
Note: These are just some estimates gathered from the Internet. In order to get an exact price, it is recommended to contact the club directly.
According to the PassportMiami website, the prices for residential houses are anywhere between $1,000,0000 and $16,000,000, while the townhouses and condominiums are less expensive with prices ranging from $450,000 to $5,000,000. The initiation fee for the social membership starts at about $12,000, while the equity owners of property should budget around $220,000.
Also, according to a NY post from 2010, if you want to buy a charter equity membership, as a potential resident you must be sponsored by two current members and pay for their membership around $200,000.
Types of Ocean Reef Club memberships
Legacy
The children and grandchildren of the Equity members can get this type of membership.
Social
People that are not residents of Miami-Dade or Monroe counties, but still want to join the club can go with this type of membership. In this situation the wannabe member has to be sponsored by two club members and one of them must be an equity member. As to become a local social member, you must be a resident of Miami-Dade or Monroe county. Also, you must be sponsored by two equity members, with one being a member of the South Florida membership committee.
You might also like our articles about the cost of membership at the Valhalla golf club, Muirfield golf club, or Carefree boat club.
Equity
If you want to become an equity member you have to own property in the Ocean Reef Club or Anglers Clun community. Also, you have to be sponsored by two equity members and the application must be approved before the property is closed. If the application is approved after that, the candidate has to wait another five years to apply again to this type of membership.
Ocean Reef Club membership details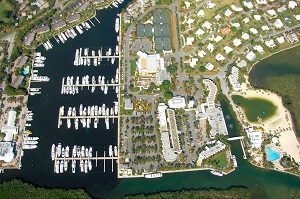 Along Florida's Gold Coast, the Ocean Reef Club is a private club with most of it on the water and bordered on three sides. This luxurious place that only opens its doors for members, has strict environmental laws restricting the number of people that are allowed into one location at any given time.
This is more like a town with its own airport, fire department, medical center, church, town hall, school, gas station, restaurants, cultural center, and many more.
The club has to offer activities for all family members, no matter the age. For example, children can take part in activities like a game room or nature center.
The equity members have more privileges, including the airport privileges, access to the al club's amenities, a marine with more than 175 slips, beach access, or tennis courts access.
What are the extra costs?
Equity members should budget around $700 for the food and beverages fees.
In order to participate in the majority of the club's activities, you have to pay an extra fee.
While optional, the cost for a marina slip is said to be almost $550,000. According to a Yachting Magazine article, the price for a 90-foot yacht slip is $580,000.
Important things to consider
This club was called one of the most secure communities in the United States by the U.S. Secret Service.
All the members have to respect a strict cell phone and dress code policy inside the club. You better check their official website for more details regarding these rules.
Social members have the opportunity to upgrade to the equity membership within five years after they buy a property in the club community. If this is the case, also, their initiation fee is also upgraded.
The club has approximately 1,200 legacy members, 500 social and local members, and around 1,800 equity members that have property within the club, including the condominiums and docks.
https://www.thepricer.org/wp-content/uploads/2021/10/Ocean-Reef-Club-membership.jpg
380
610
Alec Pow
https://www.thepricer.org/wp-content/uploads/2023/04/thepricerlogobig.png
Alec Pow
2021-10-20 07:56:23
2022-02-09 17:33:40
Ocean Reef Club Membership Cost