Ruth's Chris is a well-known steakhouse restaurant chain with locations in the United States, Canada, and Mexico. The main focus of the Ruth's Chris menu is the lunch options and the steakhouse meals.
Loyal customers choose Ruth's Chris restaurant every time they feel like eating stake because the taste is great and the atmosphere is really friendly.
In the table below you will find the latest Ruth's Chris menu prices.
Item
Price

Appetizers

Seared Ahi-Tuna
$18.9
Barbecued Shrimp (Appetizer)
$19.9
Mushrooms Stuffed with Crabmeat
$17.9
Lobster Voodoo
$20.9
Chilled Seafood Tower (Small)
$59.9
Chilled Seafood Tower (Large)
$119.9
Sizzling Blue Crab Cakes (Appetizer)
$21.9
Crab Stack
$19.9
Calamari
$18.9
Veal Osso Buco Ravioli
$16.9
Shrimp Cocktail
$19.9
Carpaccio
$16.9

Entree Complements

Shrimp
$19.9
Oscar Style
$18.9
Ruth's Dipping Trio
$9.9
Bleu Cheese Crust
$5.9

Signature Steaks & Chops

New York Strip
$43.9
T-Bone
$54.9
Lamb Chops
$42.9
Ribeye
$48.9
Berkshire Pork Chop
$39.9
Filet
$47.9
Petite Filet
$41.9
Cowboy Ribeye
$54.9
Petite Filet & Shrimp
$51.9
Porterhouse for Two
$92.9

Specialty Cuts

Bone-In Filet
$59.9
Bone-In New York Strip
$52.9
Tomahawk Ribeye
$119.9

Seafood & Specialties

Stuffed Chicken Breast
$28.9
Sizzling Blue Crab Cakes
$31.9
Chilean Sea Bass
$39.9
Barbecued Shrimp
$29.9
Vegetarian Plate (Market Price)
$0.00
Salmon Fillet
$29.9

Potatoes & Signature Sides

Au Gratin
$12.9
Baked
$9.9
Mashed
$9.9
French Fries
$9.9
Shoestring Fries
$9.9
Sweet Potato Casserole
$9.9
Hashbrowns
$12.9
Lobster Mac & Cheese
$21.9

Vegetables

Creamed Spinach
$9.9
Roasted Brussels Sprouts
$11.9
Grilled Asparagus
$12.9
Fire-Roasted Corn
$10.9
Cremini Mushrooms
$12.9
Fresh Broccoli
$9.9

Salads & Soups

Caesar Salad
$10.9
Lettuce Wedge
$10.9
Fresh Mozzarella & Kumato Tomato Salad
$12.9
Ruth's Chop Salad
$13.9
Steak House Salad
$9.9
Harvest Salad
$10.9
Lobster Bisque
$11.9
Soup of the Day
$10.9
Brand History
The history of Ruth's Chris restaurants starts back in 1927 as the Chris Steak House. This restaurant located in New Orleans, Louisiana was owned by different people along time, until 1965 when it was bought by Ruth Fertel. She hired an all-female single mothers staff and included her own recipes in the menu.
Ruth was forced to rename the restaurant as Ruth's Chris Steak House and change its location after a kitchen fire in 1976. She was not discouraged by this unfortunate event and believed in the power of hard work and treating the guests as friends.
You might also like our articles about the prices on the menus of Longhorn Steakhouse, Dickey's BBQ, and Chipotle.
The restaurant become very successful under Ruth's management and in 1977 she opened her first franchise just outside Baton Rouge, Louisiana. A few years later, in the 1980s new locations were opened in Georgia.
Nowadays, Ruth's Chris Steak House has more than 150 locations all over the United States, but also in Mexico and Canada. In terms of the number of locations, this is considered to be the largest steakhouse company.
Our review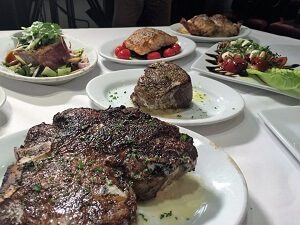 In general, Ruth's Chris locations are opened just for the dinner service. Moreover, their seating is usually for two or very intimate. Though, you can make a special request and reserve a table for more people.
Ruth's Chris restaurants use USDA prime steak for their dishes and these are well seared. This restaurant has got compliments for serving steaks perfectly done.
If you are going for the first time to the Ruth's Chris restaurant and you don't know what to choose from their menu it is recommended that you try the Lamb Chops, the T-bone steak, the Petite Filet and Shrimp, the New York Strip, and the Cowboy Ribeye.
The restaurant's signature is to bring the steak still sizzling to your table. This practice dates back to the original Chris Steak House tradition to place the plated steak under the broiler for around one minute and then add some parsley and a pat of butter, so the butter creates the signature sizzle.
The customers are really in love with the services provided by Ruth's Chris restaurants. The staff is friendly, pays attention to the customer's needs, and provides the services efficiently.
Each and every Ruth's Chris Steak House location from all over the world continues to carry on the legacy of the original New Orleans steakhouse and the spirit of the hard-working founder, Ruth Fertel.
Ruth's Chris FAQs
At what time do Ruth's Chris restaurants open?
In general, Ruth's Chris restaurants open at 04:00 p.m. from Monday until Sunday. You should verify this information on their official website because some locations might have a different schedule.
At what time does Ruth's Chris restaurant close?
Depending on the location and the day of the week, Ruth's Chris restaurant closes at 09:30 p.m. or 10:00 p.m. It is recommended to check the schedule before going there.
Can I wear jeans at Ruth's Chris restaurant?
The Ruth's Chris dress code is business casual so this means no cut-off jeans, torn jeans, tank tops, t-shirts with graphic profanity/language, crop tops, flip flops, or athletic wear. However, this doesn't mean that you have to dress like you are going to a wedding.
Who owns Ruth's Chris restaurants?
Ruth's Chris is owned by Ruth's Hospitality Group.
How much should I budget for dinner at Ruth's Chris?
You should plan on spending anywhere between $55 and $80 per person for an appetizer at Ruth's Chris. Also, you should put aside at least $65 if you would like to order a bottle of wine as well.
What type of meat does Ruth Chris use?
Ruth's Chris restaurants use only the finest corn-fed, custom-aged Midwestern beef.
What makes Ruth's Chris steaks so tasty?
The steaks served at Ruth's Chris restaurants are so good because these go through a special infrared broiling process.
Does Ruth's Chris put butter on their steaks?
Yes, Ruth's Chris uses butter when cooking the steaks.
https://www.thepricer.org/wp-content/uploads/2022/03/Ruths-Chris-menu-prices.jpg
380
610
Alec Pow
https://www.thepricer.org/wp-content/uploads/2023/04/thepricerlogobig.png
Alec Pow
2022-03-05 06:25:32
2022-12-22 18:48:42
Ruth's Chris Menu Prices